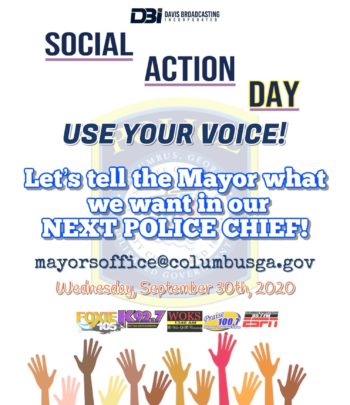 Today is a Social Action Day.  Take action today regarding our NEXT POLICE CHIEF that is going to be appointed by our Mayor, Skip Henderson.  If you care about how law enforcement will be handled in the City of Columbus GA, speak up about what you want in the next Police Department leader.
The New Police Chief will shape how this city's public Safety Department is run. Will it value persons no matter of race, class, gender, or sexuality? Will the new Chief enforce de-escalation training or have a track record of community policing success? Maybe you want the new chief to focus on the crime in your specific neighborhood. Your Voice, Your opinion matters!
The Mayor's office has put together a task force made up of representatives selected by the city council members to assist in his selection process. This is encouraging, but YOUR thoughts matter too. Take action today for the future of law enforcement here in Columbus GA.
Email or Call the Mayor of Columbus GA, Skip Henderson today. Here is the email address, mayorsoffice@columbusga.gov .
You can copy and paste the template below, add your thoughts, and send to Mayor's Office today.
——————————————————————————————————————–
Mayor Henderson,
The selection of our next Columbus Police Department Chief of Police is critical to me and our city. As a resident of the city of Columbus, GA it is important that I have a voice in this process. I ask that you take the following into consideration in your decision:
1)___________________________________________________
2)___________________________________________________
3)___________________________________________________
Sincerely,
Concerned Citizen, ___________________________________